Author's Gala 2017….See Pictures from our wonderful evening!

Saturday, September 23
Theme: Young Minds + Libraries = Our Future
Guest Author: Juliana Presto, from Modesto, author of the Fire & Ice Series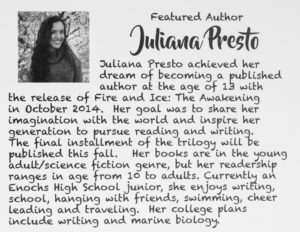 Proceeds benefitted the Library Foundation.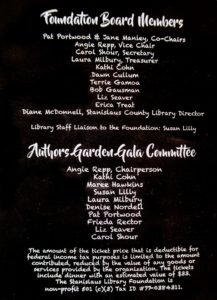 Thanks to our major sponsors
Bell Packaging Company
Maree & Jerry Hawkins
Pat Portwood & Ron Baram
Crawford Financial Planning & Consulting
MOCSE
Gallo
Gianelli & Associates
Cardoza Family Fund
===========================================

Visit your public library in 2017!
Buy a book & support the library! Friends of Salida Library Used Book Sale
Saturday, Mar. 11, 2017, 10 am – 3 pm at the Salida Branch
Shoppers can choose from a wide range of items for all ages, at bargain prices.
Hardcover books can be purchased for a dollar each, and paperback books are each fifty cents.
Books on CD are two dollars each, as are videos and DVDs.
==========================================
---
Past Events

Juvenile Hall Library Dedication, July 31, 2017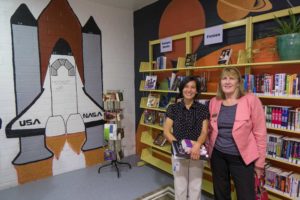 =====================
---
August 19, 2016

–   Annual Party at the Library-Thank you to our donors.  This year's theme was "Read to Win!"

The Stanislaus Library Foundation hosted a quartet of Modesto poets at its Author's Garden Gala on Saturday, Sept. 24.
The gala will took place at 6 p.m. at the Modesto country home of Ginger and Kent Johnson.
All proceeds benefitted children's programs at the library's 13 branches countywide,
including the Summer Reading program, which serves more than 11,000 school-age children each year.
Featured speaker for the evening was Modesto's poet laureate Gillian Wegener.
Joining Wegener was Stella Beratlis, incoming poet laureate; and poet Ed Bearden.
The theme for this year's event, the Foundation's primary annual fundraiser, was abundance.
Foundation Chair Pat Portwood said before the event:
"We'll be celebrating the abundance of our Valley—from the richness of our soil and the bounty it produces to the literary talent of our featured guests."
Gala guests enjoyed a gourmet meal prepared by Surla's Restaurant.
A unique and popular feature of the Author's Garden Gala was a lively dessert auction.
"Local bakers are donated delectable sweets—from cakes to pies and pastries—
for which guests engaged in  friendly bidding,"
said board member Kathleen Cohn.
"It's all in fun and every penny we raise goes directly to the library."
 ——————
August 19, 2016 Party at the Library to honor supporters!  See our photo album
————————————————————————————————-
See last year's Author's Gala, September  26, 2015: Our featured author was Paula Treick DeBoard, a local Modestan.   Click here to see a gallery of pictures from the event
Interested in Paula's books?  Check them out at Amazon:
---
---
Past Events
August 14, 2015: Party at the Library to honor Superheros!

   
Over 55 people attended the event, which included tours of the main library, a description of our 1000 books project, the summer reading programs & recognition of our business partners for 2014 & 2015:
2014: Bank of the West, Beard Land & Investment Co., Bright Family Foundation, Crawford Financial Planning, Don's Mobile Glass, E.& J. Gallo Winery, Mocse Credit Union, TSM Insurance & Wells Fargo Bank
2015: Gould Medical Group, Mraz, Amerine & Associates, Pacific Southwest Container
Thanks to contributing photographers Carol Shour & Art Conn
---
---
2015 Shining Stars Awards
April 18, 2015
Volunteers from the county's 13 library branches were recognized & honored in several catagories
Beginning in 2004 the Shining Star awards recognize individuals, businesses and organizations.
Award List:
Maree Hawkins received the Joan Patterson Stellar Award, which recognizes longtime library volunteers. Ms. Hawkins has completed 15 years as a member of the Stanislaus Library Foundation board, the longest in board history. She has served as secretary, treasurer and board chairwoman. "Her wisdom and experience and unqualified love of the library have served as an inspiration to the SLF board members," according to the release.
Shining Stars awards were presented to honorees in three categories:
Friends of the Library
▪ Judy Pierce joined Friends of the Modesto Library in 2011 and has served as co-president of the group and as publisher of its newsletter. She has been a liaison with library management through renovations of the Children's Room, funded by FOML.
▪ Sandy Mann is active in Friends of the Turlock Library and has been responsible for book sorting, done 34 times each year to prepare for the annual book sale.
▪ Nancy McNatt volunteers daily at the Salida library, arranges the book tables and coordinates the two books sales each year for Friends of the Salida Library.
▪ Frank Clark serves on the Oakdale Board of Directors for the Friends of the Oakdale Library. As part of his many volunteer efforts, he helped in fundraising for Measure T and promotes the Oakdale library to community and civic organizations.
Individual volunteer
▪ Dorothy Watson has been volunteering for the Ceres library since 1992, going to the library every Monday morning and spending two hours shelving, pulling holds and supporting the library staff in numerous ways.
Business
▪ Since 2003, Paul Rey's company, Foothill Systems, has provided hosting, registration and name domain of the foundation's website and has continued the work at no cost. Paul also assisted with the Yes on T campaign.